categorias
| | |
| --- | --- |
| | TIPO DE BRASIERES |
| | |
| | |
| | ESTILOS DE FAJAS |
| | |
| | |
| | coMPRESION |
| | |
| | |
| | |
| | |
| | |
| | ROPA INTIMA |
| | |
| | |
| | |
| | TIPO DE TEXTIL |
| | |
| | |
shaping Colombian Girdle
Faja Colombiana modeladora
COMPRESION FUERTE / strong compression
BraS NOT included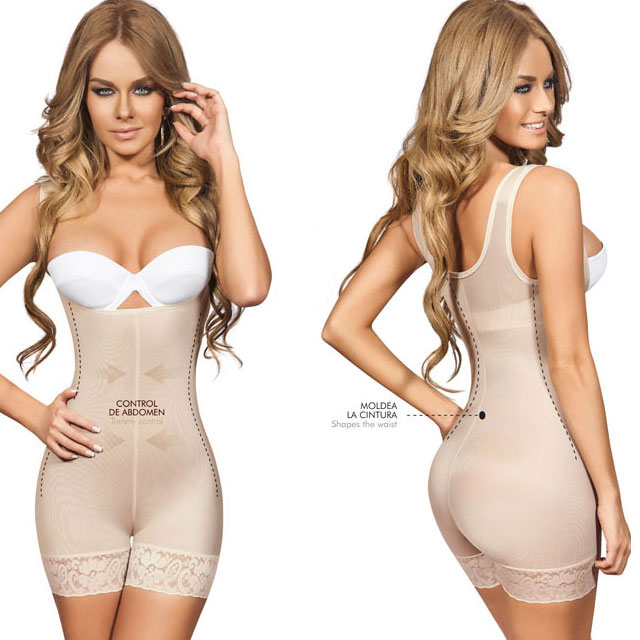 ITEM # FG-12001
Description: Maximum control boxer body shaper. Loose 1 to 2 sizes when in use. Shapewear body type with wide straps for a good fit, with bust uncover for use with the desired bra, made with top high compression powernet that helps shape the waist, ideal for post surgical use, has a delicate lace on the edge of the legs. Allows a better patient recovery, helping skin to re-attach to the muscular tissue, reduces significantly the liquid retentions, pain and flaccidity and offer more mobility and safety's patient. Silicone lace. Maximum control body shaper. Shapes the abdomen, legs and back. Lifts hips, corrects your posture and controls cellulite.
Compositión:

73% Nylon 27% Lycra
RECOMMENDATIONS:
•Use the same pants size
•Hand wash, do not bleach, do not dry, and do not twist
Descripción: Lipo-Reductora - Realce de cadera medio muslo. Faja diseñada para moldear el cuerpo y ayudar acentuar y levantar el busto y glúteos, su forma debajo del busto ayuda a central y levantarlo de forma natural, la parte baja de los glúteos esta diseñada para levantarlos. Faja Reductora con Excelente Modelación. Faja Lipo Reductora. Su tela se ajusta perfectamente a tu cuerpo. Esta faja te brinda el mejor control con máxima comodidad. Ejerce control en abdomen, pierna y espalda, realza la cadera. Encaje siliconado para un ajuste perfecto en la pierna. Banda especial para realzar la cadera de manera natural y perfecta. Faja body media pierna que controla y disminuye medidas en cintura, abdomen, espalda, caderas y muslos, en la espalda se encuentran unos cortes estratégicos para mantener una buena postura del cuerpo y cargaderas anchas para un mayor ajuste y comodidad
Composición:

73% Nylon 27% Lycra
RECOMENDACIONES:
•Se debe comprar la misma talla del pantalón.
•Lavar a mano, usar jabones suaves, secar a la sombra y no retorcer.